Common mistakes of law departments that send out Requests for Proposals. Here are two of the mistakes, out of five. '2. Impose unrealistic deadlines - Crazy deadlines that don't allow for thoughtful responses, or are imposed with the expectation that law firms will drop everything to reply on time. Previously I mentioned that one reason a law firm may decide not to respond to an RFP is if the deadline is unreasonable. This tactic may indicate to some law firms that a specific firm has been pre-selected, and that the RFP is being proffered simply because it is corporate policy to seek three bids. 4. Exclude selection criteria, such as weighting information - Corporate clients that don't communicate the scoring process and proposal assessment criteria are putting themselves at a disadvantage. Law firms need to know what the rating is for fees versus other technical factors. The responses to the selection criteria will give in-house departments the best indication of how the strengths of the competing law firms align with the company's goals.' Click here for the full text from NL Watson's Nancey Watson.
Scrutiny of one aspect of a complex maturity model. Most law departments lag far behind according to this maturity model. 'I have elected to look at one function - external resources management - to illustrate the report's treatment of the sub-functions. This function had the fifth highest score at 2.85, yet only 11 per cent of the law departments reported that they were in the advanced stage. The report relies on 13 sub-functions to determine operational maturity for external resources management. These follow with the total percentage of participants stating that the elements are "not yet in place" and "planning to be in place". Otherwise said, these departments are at best in the early stage.' Click here for the full text from Catalyst Legal's Richard Stock.
How the Am Law 200 represents power-law distributions. Not everything in life follows a neat bell curve distribution. 'Primarily because averages can be a helpful and informative component of generating a summary or overview of data distributed over a standard or normal or bell curve. However - and this is the key - the Am Law 200 represents data distributed over a power curve. With this type of distribution, averages don't just mislead; at times, they may in fact lie.' Click here for the full text from Adam Smith, Esq.'s Bruce MacEwen and Janet Stanton.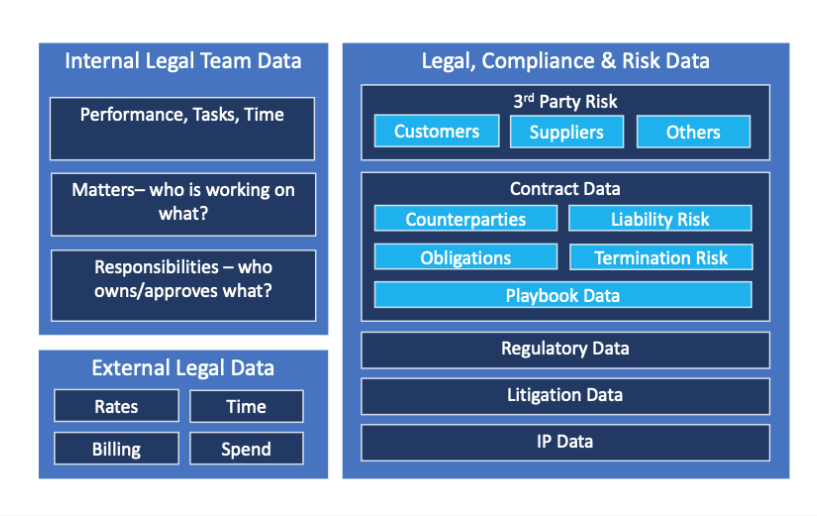 A handsome chart of metrics that law departments might track. Easy to create these sorts of eye candy, but hard to put into practice. 'But what is Legal Data? Where do you start? What sort of things can you realistically measure?' The image at least gives a breather from text. Click here for the full text from Coupa's Jamie Wodetzki.
Some of the pitfalls regarding contracts. An e-book by this vendor describes six other problems that law departments commonly have with contracts. '2. Do you have too many competing "templates" for the same type of contract, leading to non-standardized contract language?' Click here for the full text LinkSquare's Samantha Wargo.