It takes a village to handle LIBOR changes. To identify contracts that have LIBOR clauses and to revise them, a combination of a major law firm, a legal-service-support provider, and machine learning software makes headway. 'The Clifford Chance Data Science Lab, as well as other similar operations at large law firms and other organizations, has collaborated with Elevate to implement our AI platform ContraxSuite, as well as other software tools, in ongoing LIBOR transition projects.' Click here for the full text from Elevate.
How to find specific clauses in contracts. As a starting step, your law department needs to have access to a contract repository to take advantage of a capability such as this one. 'Contract management platforms that use artificial intelligence to track and identify all of the Force Majeure clauses in a contract repository enable you to quickly find which of your existing contracts contain these clauses and, along with text search capabilities, can search for Force Majeure clauses that contain specific terms such as 'disease' or 'pandemic.' Relatedly, this type of capability is able to show legal teams where they are exposed - that is, which of your contracts do or do not contain Force Majeure clauses.' Click here for the full text from Evisort.
Growing need for in-house counsel at colleges. A disturbing insight into the rising legal risks of colleges, and the value of an in-house counsel. 'As evidence, they point to recent IRS 990 tax filings for liberal arts colleges that do not have in-house legal counsel. Those documents reveal that many colleges now spend so much on legal expenses that outside law firms are listed among their five highest-compensated independent contractors.' Click here for the full text from Forbes' Michael T. Nietzel.
A network for all sides of the aisle. It's good to bring together people who share an interest, even if their business goals differ. '[T]he founders of the Legal Marketing Association's ® Conference recently launched the Legal Value Network (LVN) to connect professionals from law firms, corporate legal departments, alternative legal service providers, and technology providers. The goal, as LVN states, is to bring together those who are 'focused on designing, building, and implementing the foundations of a more contemporary and commercially-sound model of legal service delivery.' Click here for the full text Thomson Reuters' Kelly Harbour.
Legal ops staff are far from ubiquitous. Late in 2019, Neota Logic surveyed 70 law departments (no details provided in the report regarding their size or location). 'Only 33% of those surveyed have a legal operations role within the team, but many of those achieving tangible results with tech have done so through legal ops.' The report has almost no metrics from the survey; mostly, it contains quotes from various senior members of law departments, including Neota users. Click here for the full text of the report from Neota Logic.
Focus on legal risks or strategic priorities? Many observers of law department management talk about law departments focusing on the highest legal risks. Here is a statement from a law firm that takes a different perspective. 'Legal departments are overlaying spend against key objectives of the company to ensure that the allocation of legal resources aligns with the strategic priorities of the company.' Click here for the full text from Orrick's Wendy Butler Curtis, Chief Innovation Officer, Orrick & Kate Orr, Senior Innovation Counsel, Orrick.
High-level comments on legal technology. Instead of quoting from the publication, here are two images that have value on their own. Click here to get the report from Hyperion and Mitratech.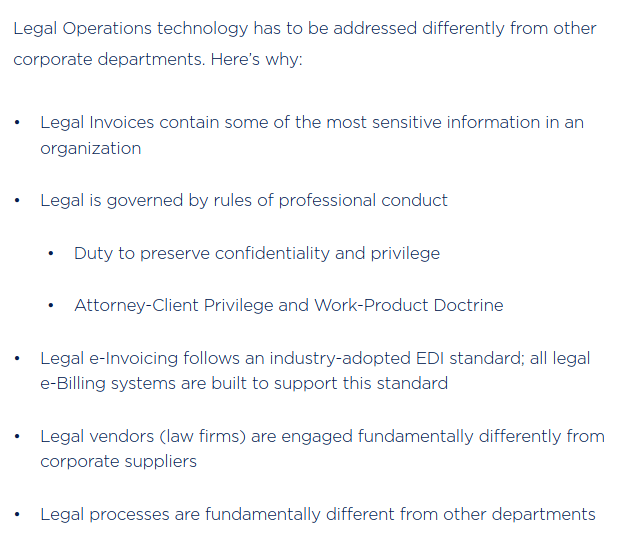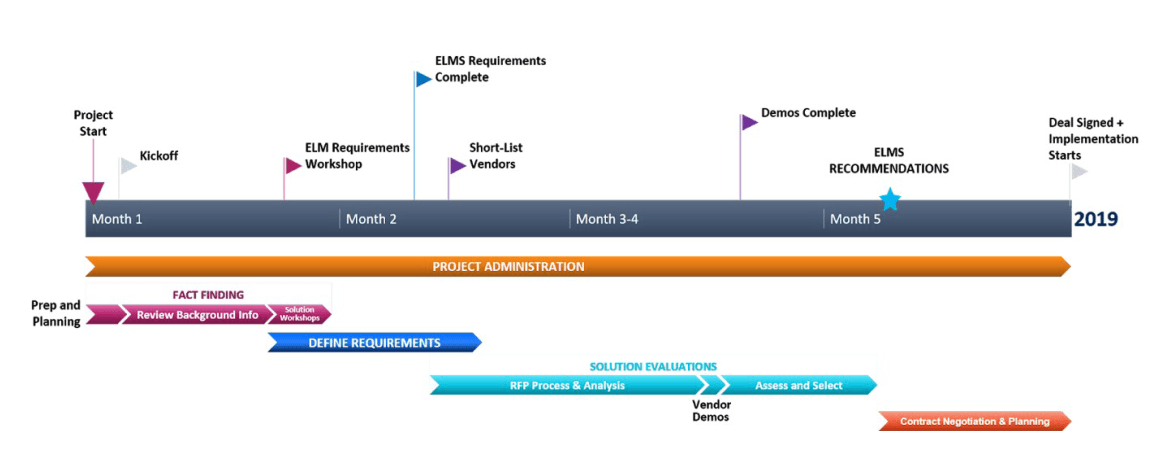 Three tips for penetrating vendors' demos. 'The dirty little secret of the software world is that many vendors will demo functionality that doesn't fully exist yet. ... First, be wary of any vendor who takes multiple weeks for even setting up the demo. That's a red flag that they are likely going to show you something custom and not already existing in the product, or the fact that their system administration is so complex that it takes weeks to setup for your demo. Second, be wary of any demo that is overly broad. You want the vendor to show both a simple use case but also a peek behind the scenes at how the product is administered and configured since you will want to maintain the solution yourself for years to accommodate your changing business needs. Lastly, be wary if the vendor is unwilling or delays in providing a sandbox trial for you to play with. This probably means that their sandbox environment doesn't exist, is too complicated for short-term use, or its out-of-the-box functionality is not the same as what they demoed.' Click here for the full text from Malbek's Becky Holloway.