---
---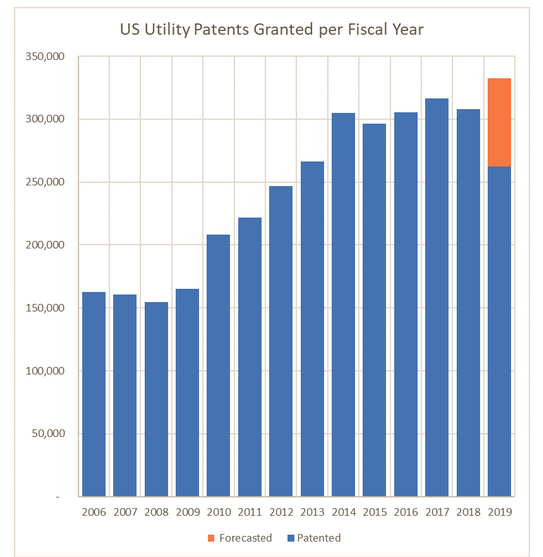 Think your patent lawyers have been busy? See the volume countrywide. The chart that accompanies this item shows a projected increase in U.S. utility patents. Of more interest are the several comments to the original post by the law school professor. Here is the image shown. Click here for the full text of the patent post.
Seven reasons why your law firms have raised their rates. Law department managers are bedeviled by rate increases from their law firms. Here is a piece that explains from the law firm's perspective why those increases take place so regularly. Click here for the full text about the Altman Survey.
'According to the report, procurement professionals are delivering an average 17.1 percent savings on legal service'. Quite predictably, if you ask professionals to estimate how much they are saving or accomplishing, the results will be favorable to those professionals. How credible the results are, however, in the eyes of the cynical world remains in doubt. It's not that I question that procurement can play a role in managing outside counsel costs, but I suspect that there average efforts are not so spectacular. Click here for the full text of the procurement report.
As law firms embrace social media, law departments can benefit. Social media encompasses a range of channels for law firms. This piece mentions firms have 'embraced podcasts, blogging, Twitter and LinkedIn to promote thought leadership in [their] practice areas'. A fair amount of what pours out from law firms might be useful for law department lawyers who selectively attend to sources that bear on their practice. Click here for the profiles of several firms regarding social media.
Four ways that e-billing software can feed data analytics. Even if this item is unabashedly self-promotion, it does lay out a handful (minus the thumb) of ways to make use of data captured by an e-billing system. Click here for the full text of the piece on e-billing analytics.
Software that can extract key terms from contracts. 'ContractWorks gives users the ability to bulk upload large volumes of contracts at once, and the new AI feature automatically tags key pieces of information in each contract, including agreement type, parties involved, effective date, termination date, and more.' If the software performs as described, law departments could benefit significantly from being able to catalog and understand crucial terms of their existing contracts. Click here for the full text about ContractWorks.
Meet a new person every day. The person interviewed in this article, a senior Microsoft lawyer, highlights an important aspiration for all of us, based on advice from his father. 'First, he encouraged me to meet a new person every day and to always be networking. As I have become more senior in my legal career I have grown to fully appreciate and understand the incredible importance of building relationships with key people and that to advance in your career it is probably more important 'who you know' than it is 'what you know.' Click here for the text of the Garcia interview.